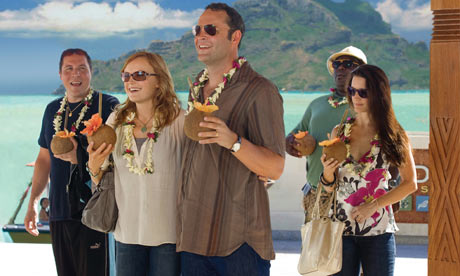 Vince Vaughn has, for a long time now, fancied himself as a hard-hitter in the movie biz.  He has tried his hand at the serious acting – Return to Paradise (1998), The Lost World (1997) – reinvented himself as a comedy king – Dodgeball: A True Underdog Story (2004), Wedding Crashers (2005) – and dated A-Listers – Jennifer Aniston (2006).  Lol.
Now he has turned his hand to producing.  Starting with Made (2001), Vaughn has now produced six movies, all of which he has starred in, and two of them were penned by the man himself also.  It is a veritable barrage of talent he is sending our way on paper…so why isn't any of that translating to screen?
Couples Retreat (2009) is Vaughn's latest offering, and co-stars his multiple-collaborator Jon Favreau (or "Fav" as he is referred to by Hollywood-insider types).  It tells the story of a couple heading for divorce that see an opportunity to enter into a relationship therapy/island retreat hybrid programme, which they can only afford if their friends – three additional couples – come along for the ride.  Of course, unforeseen hyjinks ensue, and raucous laughter is enjoyed by all.
Or so you would think.  Like Vaughn himself, this movie is good on paper, but in reality is something else entirely.  The gags seem obvious and misfire repeatedly as a result – the little boy going number one and two in a bathroom outlet showroom (Jackass: The Movie (2002) anyone?), the sexually explicit yoga instructor, and the degradation of Léon (1994) star, Jean Reno as the quirky, new age therapist, Marcel.
The film is also laced with plenty of cringe-worthy pointlessness.  The shark-infested waters of the Eden resort bring nothing to the narrative; neither does the strange video game segment at the movie's mid-way point.  Any film which feels it has to feature a Guitar Hero battle, using split screen and neon graphics for emphasis, has surely lost its way?
There are, however, laughs to be had.  You will find yourself riddled with guilty amusement when their holiday rep introduces himself as "Sctanley – spelled with a 'C'"; at Dave's "asstastic" alarm code; and at any scene which features the fantastic Jason Bateman – the film's one saving grace.
Every once in a while, all you want out of a trip to the cinema is to watch something that doesn't require a lot of thought; where one's brain can happily switch off for a couple of hours and gently dribble soggily out of one's ear.  This is one of those movies.  Fans of Vaughn's work will be charmed by this piece, as well as anyone who appreciates the film's core message; which is that couples can become so embroiled in the daily grind that they forget who they are and why they came together in the first place, and the importance of reconnecting with one's partner.  Admirable as that is, the delivery of the message is not as dignified as the message itself.
A fair effort – approach with caution, and very little expectation.
Emma Champion
Image sourced at:
http://brandonfibbs.com/wp-content/uploads/2009/10/couples.jpg