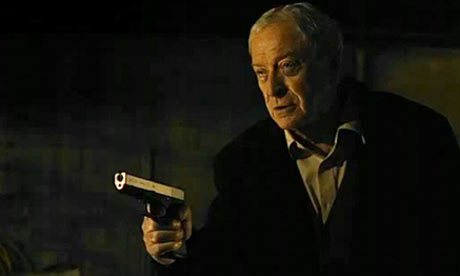 Michael Caine is, arguably, Britain's highest commodity when it comes to character actors.  With an illustrious career that has spanned five decades and is still going strong, at age 72, the man knows no bounds.  What is utterly bewildering above all of this, however, is his ability to push beyond his own boundaries, challenging himself still at this late stage in the game.  Not content with resting on his laurels and playing the easy, more obvious roles, Caine still has the courage to opt for a challenge.  Perhaps that's the secret behind the longevity of his career.  Like he recently told Total Film magazine, "I remember saying, rather wisely, on one of my first interviews, that my greatest talent was survival."
Survival is, of course, the very skill Caine's latest character is forced to perfect.  Harry Brown (2009) paints a very dark and all-too-real picture of street culture in twenty-first century London, and the affects it has on those caught in the crossfire – quite literally at times.  Harry (Michael Caine) lives on a run-down estate in suburban London.  When his wife passes away following a long bout of illness, Harry's only remaining friend is his pub-buddy and chess partner, Leonard (Harry Potter's David Bradley).  Following a confession from Leonard that he is being terrorised by a gang of local youths, the police arrive at Harry's door to inform him of Leonard's death – the result of a brutal attack.  Harry could never have known how he would react to this news, nor could he have predicted the action he would be forced to take…
Harry Brown is an exception piece of film making.  Director Daniel Barber has outdone himself with this, his debut full-length feature.  He chooses to open his movie with handheld camera footage of what is essentially a drive-by shooting, which has a high impact and stark contrast to the stillness of the scenes that follow.  Therein lays Barber's genius – his ability to balance his film with equal measures of chaos and calm.  He has delivered a film which feels relevant and contemporary, as well as classic and smart.
The film, however, belongs to Michael Caine.  His delicate, maintained and slow-building portrayal of Harry is a veritable education for anyone in any doubt about "how it's done".  The opening credits declare that "Michael Caine is Harry Brown", and he is, with every fibre of his being, and every ounce of his experience and talent.  Look out for the scene near the beginning when Harry is stood doing his dishes.  Caine has an uncanny knack for injecting magic into the most mundane of actions.  His character moves along an unlikely arc, which sees his Harry transform from defeated old man to take-charge vigilante.  On paper, a man of seventy-odd waving a gun around and giving those pesky hoodies what-for might read as ridiculous.  Caine makes it plausible, believable, and genuine.
This film might not be everyone's cup-of-tea (cover your ears during the police interrogation scenes if you're easily offended), but that in no way detracts from the fact that this is slick, savvy and street-smart.  Many have referred to this as a reactionary piece, in light of the rise in gang culture and gun/knife-related crime.  If that is the case, then the consensus is unmistakable – we as a society want rid, and, along with Harry, we'll fight it all the way.
Highly recommended.
Emma Champion
Image sourced at:
http://static.guim.co.uk/sys-images/Film/Pix/pictures/2009/10/6/1254819517104/Michael-Caine-in-Harry-Br-001.jpg